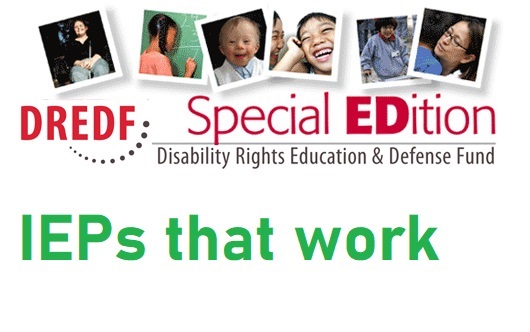 Once a student is eligible for special education, the IEP team, including the parent and student as appropriate, develops an Individualized Education Program (IEP) based on the unique needs of the student (Understood: Who's on the IEP team.)
Category of Disability: Which of the 13 categories of disability in the special education law IDEA (Individuals with Disabilities Education Act) does the student qualify under and how the disability affects the student's progress and learning? (Understood: The 13 Disability Categories Under IDEA.)

Present Levels of Performance: Description of the student's strengths and challenges, and how the student's disability affects their learning and progress at school. These are the starting point from which the student's progress is measured, including academic needs and functional performance such as behavior, social skills, communication, and medical needs. They should include information that is objective and measurable. (CPIR: Present Levels Center for Parent Information and Resources.)

Annual Goals: Goals are written in all areas of need so that they can receive educational benefits. IEPs are not written by disability "type." We do not create Autism or Orthopedically Impaired IEPs, for example, because every child is unique, and one size does not fit all. Goals include who will monitor progress and report on student progress.

Services, Supports, and Placement: What kind of help does the student need to meet these goals and receive an educational benefit? (Matrix Parent Network: Educational Benefit Review.) These are the services and supports the student needs to make progress and receive educational benefits. The IEP describes the help needed, what type of professional will provide it, how often and where (help provided in the general education classroom, or a separate location), by what kind of service provider and how often this help will be provided, and what accommodations (how a student learns) and modifications (what they learn) are needed. Students should be supported in their Least Restrictive Environment (LRE). (Ask Resource Center: What is the meaning of the Least Restrictive Environment (LRE)?) All students benefit from inclusion. (LAUSD: Benefits of Integration of Students with Disabilities.)
Remember the IEP process does not stop once the IEP is developed. The help a student needs can change over time or may need to be adjusted if the student isn't making progress. The law requires that the IEP team conducts an annual review to monitor progress, develop new goals and adjust the IEP as needed. But this is a MINIMUM requirement.
An IEP meeting must be held whenever anyone on the team, including the student, teacher, or parent, requests one in writing. Bringing the team together to discuss concerns and make changes as needed to the student's program is an important way to make sure the IEP is working. It can also prevent problems from escalating. Every state has specific rules about how long the school has to hold the meeting once they receive the written request, so be sure to have proof of delivery. Because it can take time to schedule these meetings, request one as early as possible when there are time-sensitive issues.
Bringing the IEP team together outside the annual meeting can be helpful or necessary. For example:
You might want to check in more formally to discuss how the student is doing, monitor their progress, or share information from outside providers.

The student is not making enough progress toward their IEP goals and may need more or different services.

The student's placement is too restrictive (not enough time with students without disabilities) or their needs are not being met.

The student has new or different needs, such as mental health challenges, social difficulties, behaviors, academic difficulties, or medical issues.

The student is not safe at school.

The IEP is not being followed as required, and services have been missed or delivered inconsistently.
See CPIR: Requesting a Meeting to Review Your Child's IEP | Center for Parent Information and Resources for more information about when and why an IEP meeting may be needed. You can find a sample letter to use here: DREDF Sample Letter Request IEP Team Meeting.
The partnership between parents, students, and schools is an essential element of student success for all students. For students with disabilities, this importance is reflected in the requirements of federal law. Because an IEP must be individualized to the unique needs of each student, and because every individual's needs change over time or may experience changes in their school situation, using the IEP process to adjust the plan is an important part of your advocacy. Contact your Parent Center to learn more about how to prepare for and participate in IEP meetings.