SFUSD district has purchased the TeachTown Curriculum for the 2023-24 school year for use in our Moderate to Severe SDC classrooms.
TeachTown Training Videos
Please see this selection of training webinars, provided by TeachTown. These might even be the same videos our teachers will use as a part of their training. https://web.teachtown.com/webinars/
One video is specific to TeachTown in SFUSD
featuring our own district leadership, Jenny Jimenez-Payne and Matt Lavoie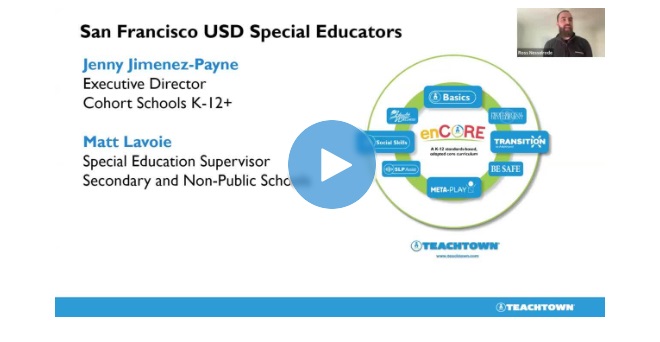 Here are some noteworthy facts from this video.
Why did we purchase TeachTown?
Our district purchased TeachTown because it offers a complete solution covering all required content areas aligned to the California state alternative achievement standards, as required for the Alternative Pathway to Diploma.
Who has access?
For the 2023-24 School year, TeachTown has been purchased for 88 classrooms covering levels from pre-K to Access (Access is our school district's Transition program for students 18-22 with qualifying needs). The classrooms selected are Moderate to Severe SDC classrooms. It is estimated that TeachTown should serve up to 880 students this year if all teachers who have access choose to implement TeachTown in their classrooms. Teachers will have the choice of whether to use it or not.
Roll-out Progress and Teacher Training
SFUSD offered TeachTown as an optional Pilot program to ESY teachers in June and July of 2023. Some teachers used it and some did not.
There was an all-day training offered for all teachers on August 14, 2023. Ongoing virtual training is offered on early-release Wednesdays. There will be more opportunities for professional development, training and 1:1 coaching is being provided. Many sites have already received their first 1:1 coaching as of late September 2023.
Click here for more Frequently Asked Questions about Teachtown and SFUSD
CAC TeachTown Meeting
Community Advisory Committee for Special Education (CAC) held a presentation on the new TeachTown Curriculum and Alternate Pathway to Graduation options in SFUSD on Sept. 28. Presenters shared information about this new program/curriculum and how SFUSD teachers will be using it as well as which students will have access to this new curriculum and graduation pathway. You can watch the recording on the CAC website (click Recording) The recording gives access to a limited-time "sandbox account" that will allow parents to see the teacher control panel which will allow them to view the curriculum.