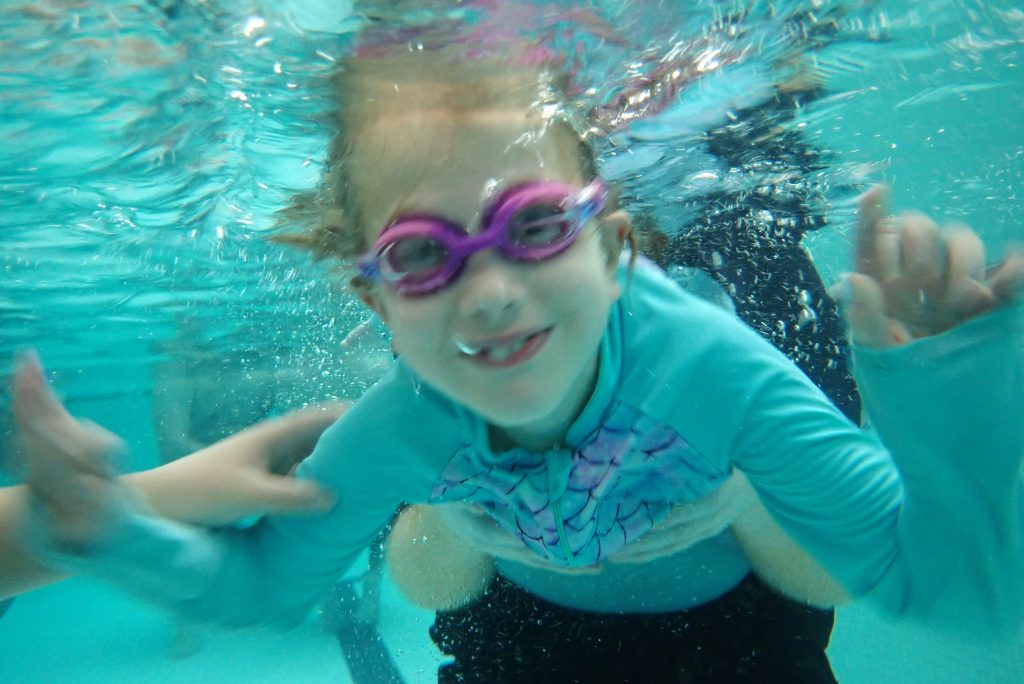 In conversation with Rana Cattaneo by Dulcey Reiter
At SNAPkids, our swimmers with disabilities are the heart of our program. We provide accessible swimming programs for children and help build more respectful, inclusive, and just communities. Learn more and support our mission at: snapkids.org
When I met with Rana, she was busy planning a birthday party for her daughter, Maddie, who'd just turned 8. Party planning revolved around dividing party attendees into one of two teams: Team Rainbow and Team Ninja, as per the birthday girl's request, for a big game of NERF blaster fun (toys that launch soft, foam-like balls). Carving out the extra time for organizing birthday logistics in an already busy schedule is just par for the course, as any parent knows…though it's not particularly easy. Rana concedes, "Parenting is challenging, regardless of whether your child is neurotypical or not."
She would know. She's got two kids who've given her perspective on raising children. Her experience as a parent of both a neurotypical and neurodivergent child with disabilities provides some helpful insights into the realities of what it's like finding community, as well as accessing resources and activities for both.
Rana believes that in the US, compared to many places in the world, Americans, by and large, do a relatively good job talking about the American Disabilities Act, which is a law that protects people with disabilities in many areas of public life, and better socializing people to see disability.
But, Rana laments, "It has never happened that people don't stare at our family" whose daughter, Maddie, is in a wheelchair. And while Rana acknowledges it's often the result of curiosity or ignorance, it's also exhausting for their family, and, especially so for her daughter Maddie who isn't interested in the attention. Rana finds she has to balance what her child wants with how others are perceiving her, making it clear the distance we still have to travel to normalize disability in our communities.
She also notes, as a parent of a kid with disabilities, that there is no holy grail of "you have a child of a kid with special needs" that outlines what you need and when. Rana shares that she finds it frustrating to navigate the many systems which are not user-friendly in order to find support, services, recreational activities, and opportunities for her daughter to engage. Though she's observed that the pathway for her neurotypical son looks quite different. There's an obvious progression that's known because there's a whole community of people who can easily provide answers, and there are so many more schooling, extracurricular and sports options available for him to begin with. For Maddie, there are limited program options and they are harder to find.
In the disability community, it looks really different…and the differences are huge. Rana shares that, despite the many diagnoses and labels of "disability", generally all children with disabilities get lumped into the same category. She notes, "What makes it so challenging is that you have to find parents whose kids are facing the same challenges, which makes your community really small. And, because any kid with a disability gets lumped together in the same category, there aren't enough resources available to have sub-categories." She also notes that these variations make it hard to build community, even amongst other parents who have kids with disabilities, because of the extent to which disabilities can vary.
One lifeline for Maddie, who lives with limited mobility and is a non-verbal communicator, is SNAPkids, a community-based inclusive swim program. In an environment where limited programming exists for children with disabilities and their families, especially fitness-related programming, SNAPkids is a rare offering.
Rana shares that Maddie loves "everything and anything" having to do with SNAPkids, a program designed to support children with disabilities to get exercise, learn to swim, socialize, and have fun in the pool. It's part of her weekly ritual and she enjoys playing with her fellow swimmers and the volunteers. Rana is herself also a big supporter of SNAPkids and appreciates that the program means Maddie gets the opportunity to swim every week, which has helped to build her confidence and skills in the water. Swimmers with all types of disabilities are part of SNAPkids is something Rana also appreciates. She likes that her daughter, as well as other participants, get exposure to seeing how other children with disabilities interact with the world as well as the community aspect of being amongst parents who may be on a similar journey.
Rana concludes, "I think SNAPkids is a great program" – but it's really Maddie who gets in the final word, using an assistive communication device, when she makes clear her love for all things swimming by declaring, "I like to swim because I'm a mermaid."
We think so, too, Maddie!